All About Parkland Marine
Experience school in an exciting way you've never done before! The Parkland Marine Institute provides opportunities for students to learn how to sail, to restore boats and engines, to study the sea and its creatures, to connect with boat builders and designers, and to explore marine jobs and training opportunities. Parkland Secondary School is located in the district of North Saanich and is only minutes away from the ocean, scientific centres, seven marinas and over sixty marine employers. We live on an island filled with opportunities and pathways to build a bright future in the Marine world. Come join the fun!
Pursue your education with a marine focus in marine sciences, marine trades, or sailing.
Focus on one particular pathway or explore a variety of courses
Work on courses in interdisciplinary, project-based work both in the school and in the community
Earn graduation credits for marine courses
Earn post-secondary credits and apprenticeships
Earn credentials and certifications required for work or just to enjoy our local environment recreationally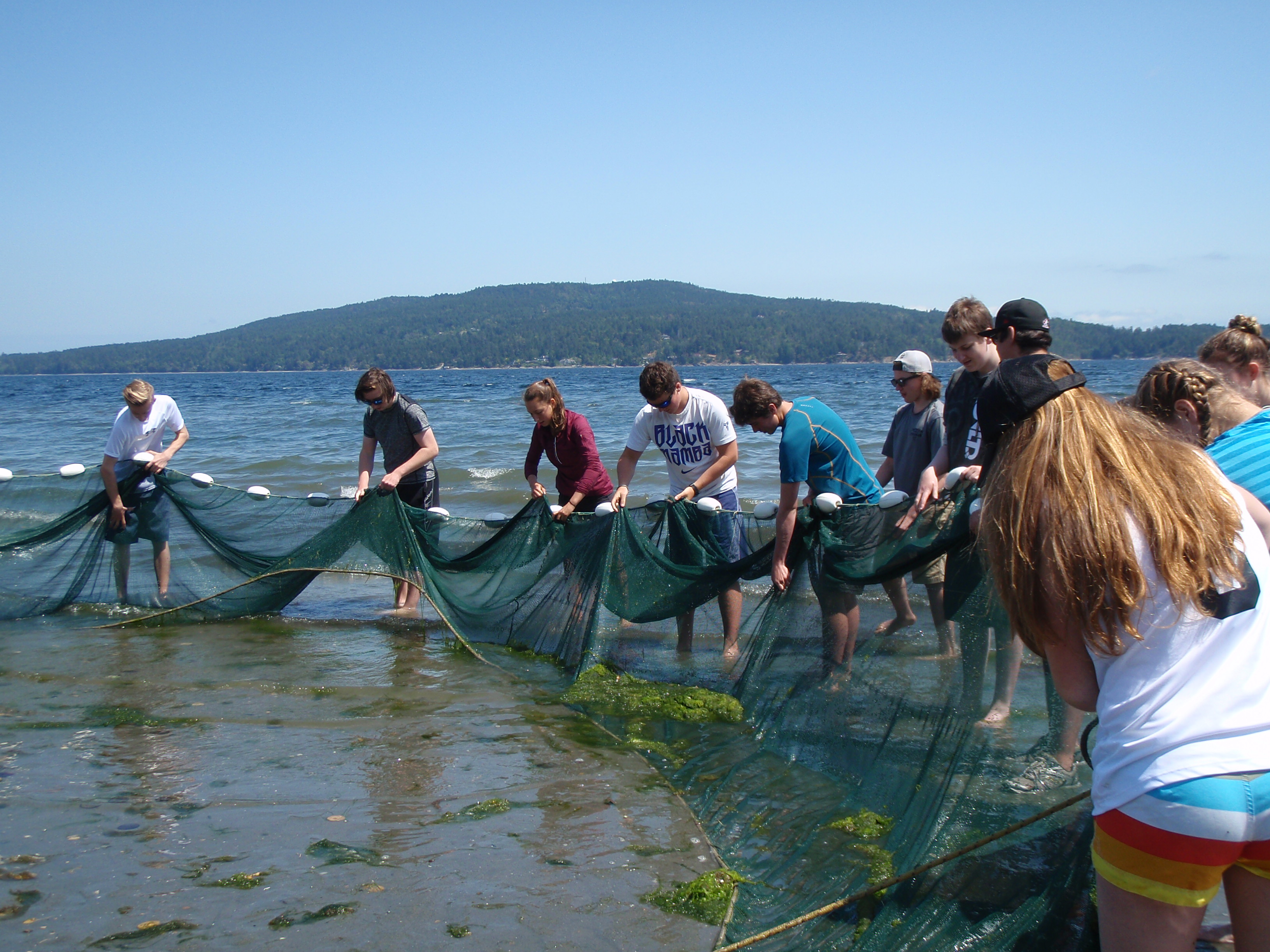 Marine Sciences
Parkland Marine offers a number of courses with a marine focus. All Parkland students are able to select marine courses as part of their program at Parkland.
Marine Science/PE 9
Students will take Science 9 and PE 9 in the same semester. The courses will be taught with a marine focus in an interdisciplinary, project-based way that will take students from the classroom into the marine environment. Students will be taken on the water in sail boats in the Fall and Spring. There will be a variety of local field trips during the year. Students who want to spend more time learning to sail can join the Sailing Academy. Sign up for this pathway on the Course Selection sheet.
Marine Science/PE 10
Students will take Science 10 as a linear class paired with Physical Education 10 and will receive credit for both courses. The courses will be taught with a marine focus in an interdisciplinary, project-based way that will take students from the classroom into the marine environment. Students will earn their Pleasure Craft Operator Card, have the option to complete their Open Water Diver Course and will gain experience on the water by learning to canoe during the PE portion of the class. There may be a cost to students who choose to participate in a variety of local field trips that occur throughout the year.
Marine Biology 11
The Marine Biology 11 course is a single semester with students earning credit for Biology 11. This will be a very different experience from a regular Biology 11 course as it is taught with a marine theme and has a much larger lab and outdoor component. Students successfully completing this course are encouraged to continue to Biology 12, Geography 12, and Oceanography 12.
Experiential lab work will include:
kayak trips in local waters to experience hands-on marine biology,
field trips to the Vancouver Aquarium, Beaty Biodiversity Museum at UBC, and Shaw Ocean Discovery Centre,
an optional 4 day marine biology field trip to the Bamfield Marine Science Centre,
an emphasis on current climate change research,
understanding local forests as part of marine ecosystems,
measurement of oxygen production in kelp forests,
analysis of satellite data to measure changes in ocean salinity,
Expert guest speakers from biology and climate change fields both in the classroom and with a visit to the University of Victoria Biology Department.
Through these kinds of local, experiential activities, students will have a better understanding of marine environments as interconnected systems and responsible ocean stewardship.
Marine Science 12 (subject to enrolment)
This course is intended to introduce the dominant themes and concepts of physics, chemistry and biology as they relate to the marine environment. It covers the basic science behind Oceanography using an inquiry-based approach.
Students will have the option to earn their PADI Open Water Diving Certificate through Rockfish Divers in Brentwood Bay. If already certified, they may enhance their certification, or pursue their Advanced Open Water course or their Rescue Diver course.
Activities and excursions may include:
Bottle Drop Experiment
IOS tour
Open Water Diver Course/Rescue & Scientific Diver prep
Uvic Ocean Symposium
Intertidal Study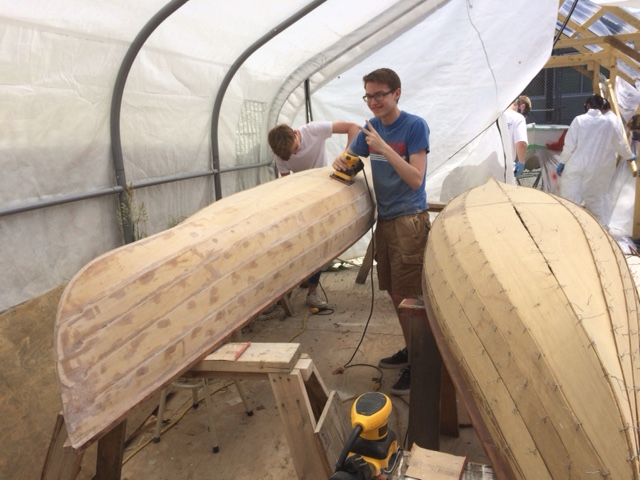 Marine Trades
Welcome to a unique trades program at Parkland Secondary that offers much more than just fun...though it is a lot of fun, too!
Parkland Marine Trades gives students a range of opportunities: It allows students to earn post-secondary credits and apprenticeships as well as earning certifications and skills required for work or recreational use.
The marine industry is a major employer in our region and, like other industries, has become a complex, high-tech enterprise which generates a demand for skilled employees in a variety of areas. This program offers students a chance to go hands-on with their education.
Parkland Marine Trades is actively developing partnerships with businesses and employers on the Saanich peninsula. Students will have an opportunity to gain work experience credits by working at a marine-based industry in our own community. Students will be guided to post-secondary training institutes where they can further their studies in a number of marine-based trades. A number of dual credit opportunities are available to senior students as well. Parkland Marine Trades students can begin their trades training, gain high school and college credit and have post-secondary course tuition paid for.
Marine Service Tech Application Package
Brochure, Quadrant Marine: MST Program

Sailing Academy
The Parkland Sailing Academy will give students with an interest in and a passion for sailing the opportunity to develop their sailing knowledge and skills, and to earn graduation credits through on-the-water experience. Students will:
have opportunities to train for recreational and competitive sailing at the local, provincial, national and perhaps international levels
develop the attributes of problem solving, critical thinking, team work and collaboration
connect positively with members of the community
Program Overview
All students in the Academy will receive on-the-water training and experience outside the regular timetable at the Sidney-North Saanich Yacht Club. Students will also be able to participate in the Lower Vancouver Island Sailing League and compete with other school teams in a safe and fun environment. Students will receive 4 credits for registering for both the Fall Sailing and the Spring Sailing program.
Academy Fees
The fees to participate in the Sailing Academy will be $200 for the fall semester and $300 for the spring semester. The fee includes the cost of boat rentals and instructors. Personal floatation devices are provided but students will be required to provide appropriate clothing. This could amount to $200 for an initial purchase which would only need to be replaced if the student outgrows the clothing. Bursaries and other forms of financial assistance are available if required.
Registration
Any interested student will be able to register for the Sailing Academy. There are no pre-requisite courses and prior experience is not necessary. Interested students should attend an information session and sign up for the course using the Sailing Academy Application Form (link below) to the Parkland Marine Office. Students in the Academy will be expected to maintain a positive academic record and manage themselves appropriately and responsibly at school and on the water.
Sailing Academy Application Form
Sailing Year At A Glance
Fall Sailing Season (September to November, 5 weeks)
The fall season is our community-league season with weekly training sessions. Students will be on the water twice a week, including one weekday and Saturday, for a total of five hours at Sidney North Saanich Yacht Club. All levels are welcome. Fees: $200
Spring Sailing Season (April to June, 9 weeks)
This is our school-based season with weekly training sessions and two regattas against other sailing programs at other schools. As in the Fall Season, we sail out of Sidney North Saanich Yacht Club. Fees: $300

Ms Stinson
Ms. Stinson is the Marine Biology 11 teacher, and also teaches Geography 12 and Learning Support at Parkland. Her favourite part of Parkland Marine is taking Biology out of the classroom and into the forests, ocean, and beaches around us to help students understand the deep connections between themselves and the natural world.

Mr Roome
As a young man, Mr. Roome sailed over 13,000 nautical miles in a 26 foot sailboat from England to Vancouver Island. Through this experience he developed a strong connection to the beautiful environments that surround our many communities. Mr. Roome hopes to instill this same connection to our natural world in his students through his support of the Sailing Academy.

Mr Hilton
Mr. Hilton has taught at Parkland since 1999. Being out on the water or underwater are two exciting places to learn. Mr. Hilton has spent over 500 hours in the Strait of Juan de Fuca, Haro Strait, and Saanich Inlet on his own boat and recently was lucky to work aboard the Vector (a Canadian Coast Guard vessel equipped for scientific research). Being out on the water, underwater, or on the beach are a few exciting places to learn.

Mr Caddell
Mr. Caddell is the Marine Repair/Restoration teacher and also teaches Woodwork and Carpentry/Joinery at Parkland. He enjoys working with students in the Marine Repair course on challenging projects and is looking forward to the launch of the refurbished classic boats in the future.

Mr Brouwer
Mr. Brouwer is the Automotive and Metal teacher and also teaches Drafting. He avidly supports Parkland Marine and incorporates marine theme projects into his classes.

Ms Dibblee
Ms. Dibblee is the Marine Science/PE 10 teacher, and also teaches Outdoor Education 11 and other PE and Sciences courses here at Parkland. Her favourite thing about being part of Parkland Marine is taking her classes outside and teaching them to paddle in the beautiful environment surrounding our school.

Ms. McNamee
How do I register?
If you are a Parkland student, you can register for any of the Marine courses as part of the regular course selection process. If you are not a Parkland student but are considering enrolling at Parkland, see the New Student Registration on the course selection page. Click here to visit the course selection page.
The Sailing Academy does have a separate registration form which can be accessed on the Sailing Academy page above.